Xiaomi Mi Band 8 With 1.62″ 60Hz Amoled Display – Global Version
₨11,500
150+ sports modes
NFC version
200 new fashion dials
1.62" Amoled Display
RR: 60Hz
In stock
Compare
Xiaomi Mi Band 8 With 1.62″ 60Hz Amoled Display – Global Version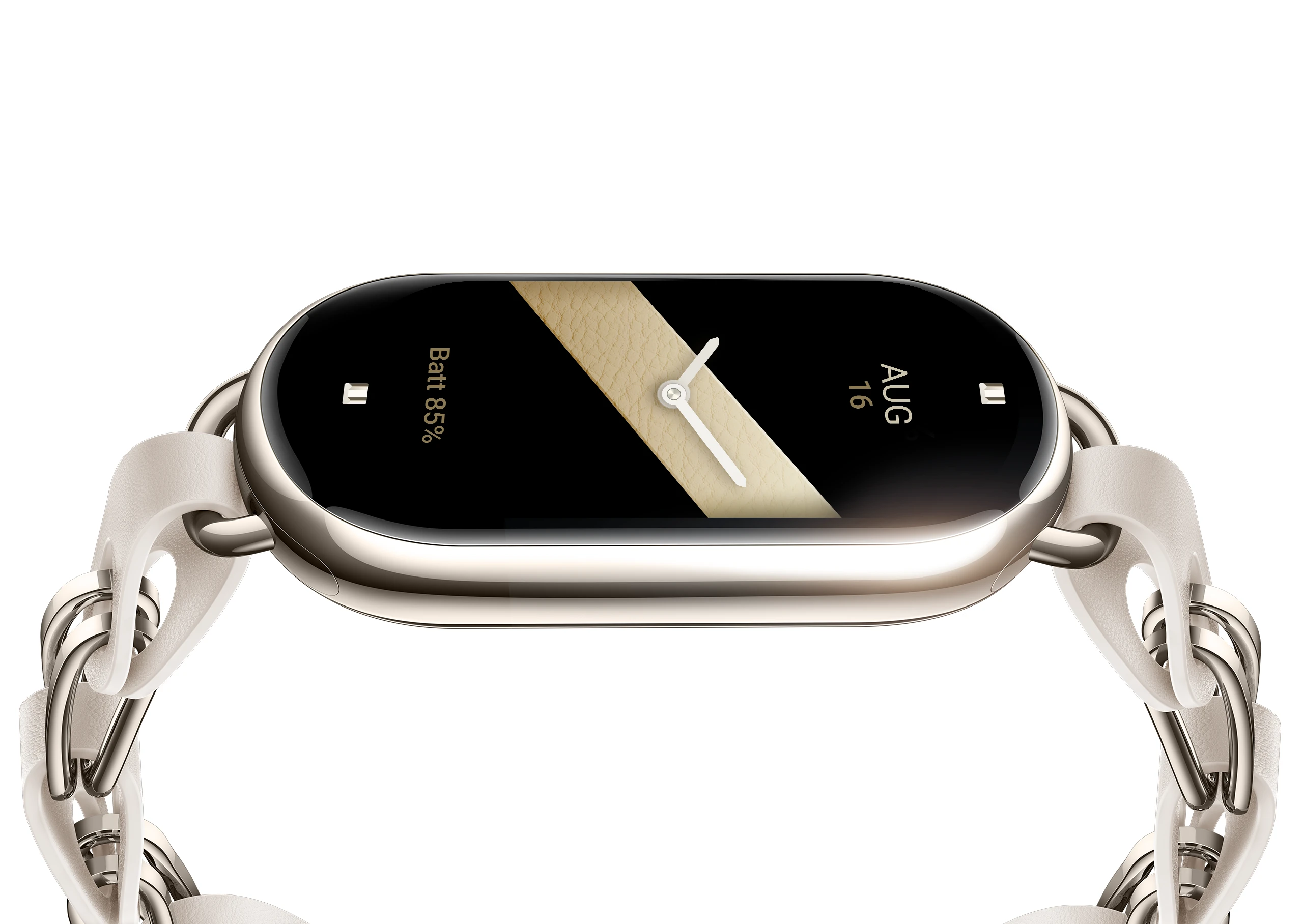 Tactile look
and feel Smart and smooth
The higher refresh rate brings an ultra-smooth experience, and the operating feel and sliding look are impressive.
Stepless automatic brightness adjustment, accurately adapt to the brightness of the environment, understand the brightness of the screen in your eyes, just lift your wrist.
*The display screen of Xiaomi Mi Band 8 adopts a track-shaped design, and the track is located in a standard rectangle. The screen measures 1.62 inches diagonally when measured as a standard rectangle.
The new quick-release design.
has a stylish texture and a comprehensive transformation
The Xiaomi bracelet is upgraded with a new quick-release structure, which can not only be easily replaced, but also
get rid of the enveloping "shackles" of the wristband, and realize more "material freedom" of the wristband. The exquisite body shows a stylish metallic texture, and for the first time brings two new middle frame colors of
"light gold" and "bright black".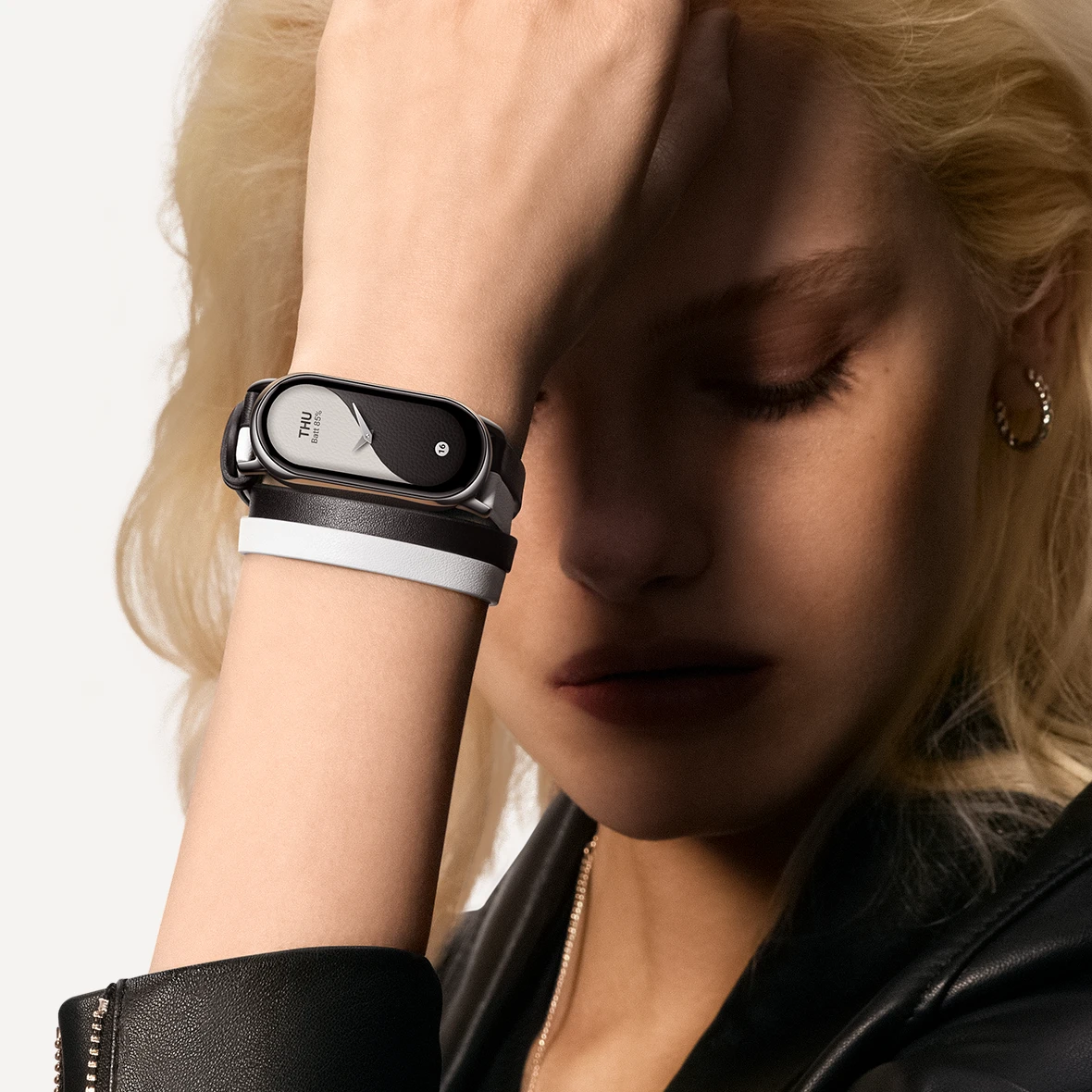 A variety of fashion wristbands
have a new look, embracing "fashion freedom"
The new quick-release structure not only brings fashion texture, but also releases more possibilities of wristband materials.
Rich and exquisite fashion wristbands are dizzying, and there is even a new necklace shape.
Some accessories are separate accessories and need to be purchased separately
The standard configuration is a black/off-white TPU wristband, other wristbands need to be purchased separately.
The actual release time of the distribution strap is subject to the official website.


Leather wristband

is classic and versatile, it can be worn with you
Made of high-end imported calfskin material, soft and comfortable

with high texture. Selected plaid green color, fashion and art are more classic

and versatile, and you can easily control various occasions with you.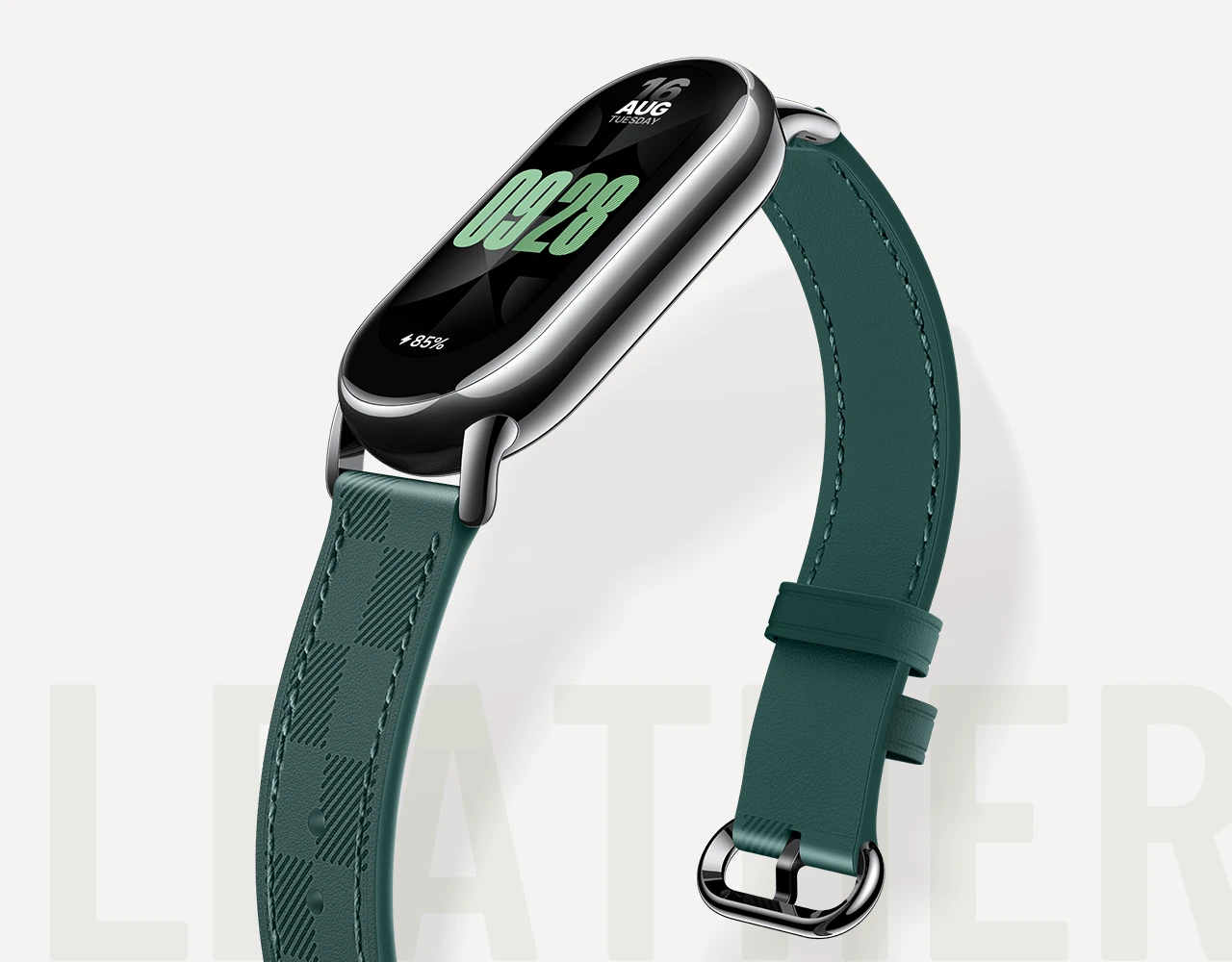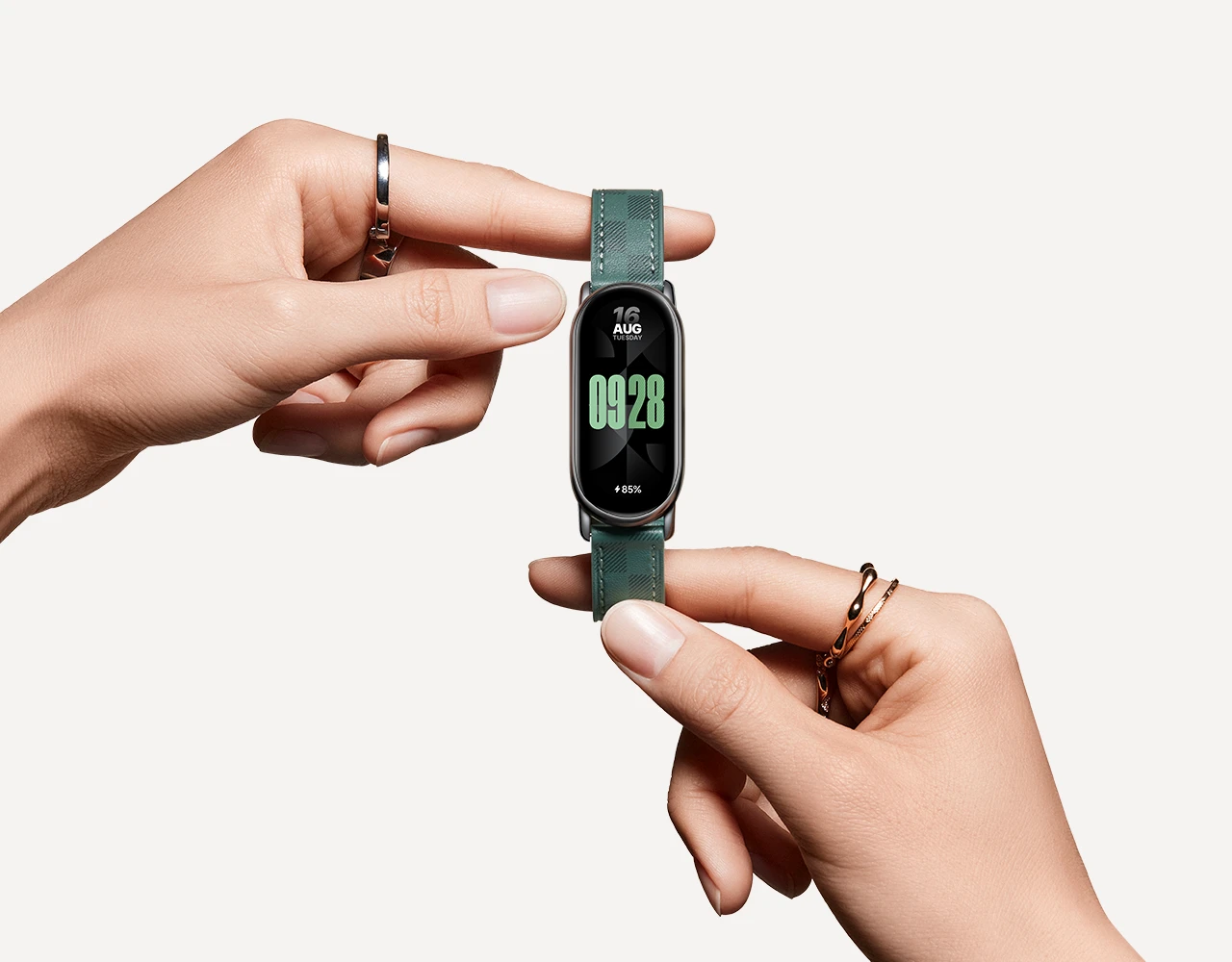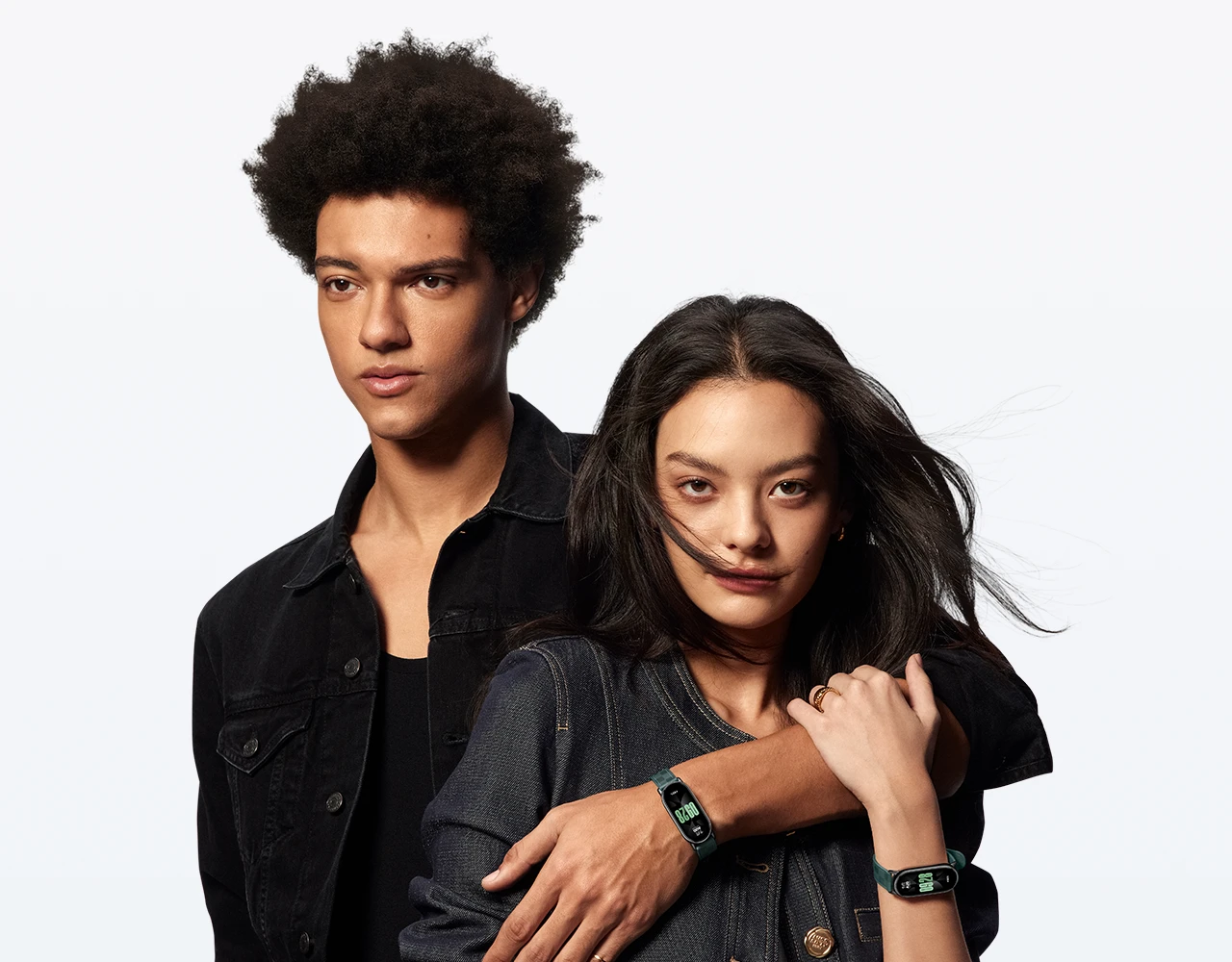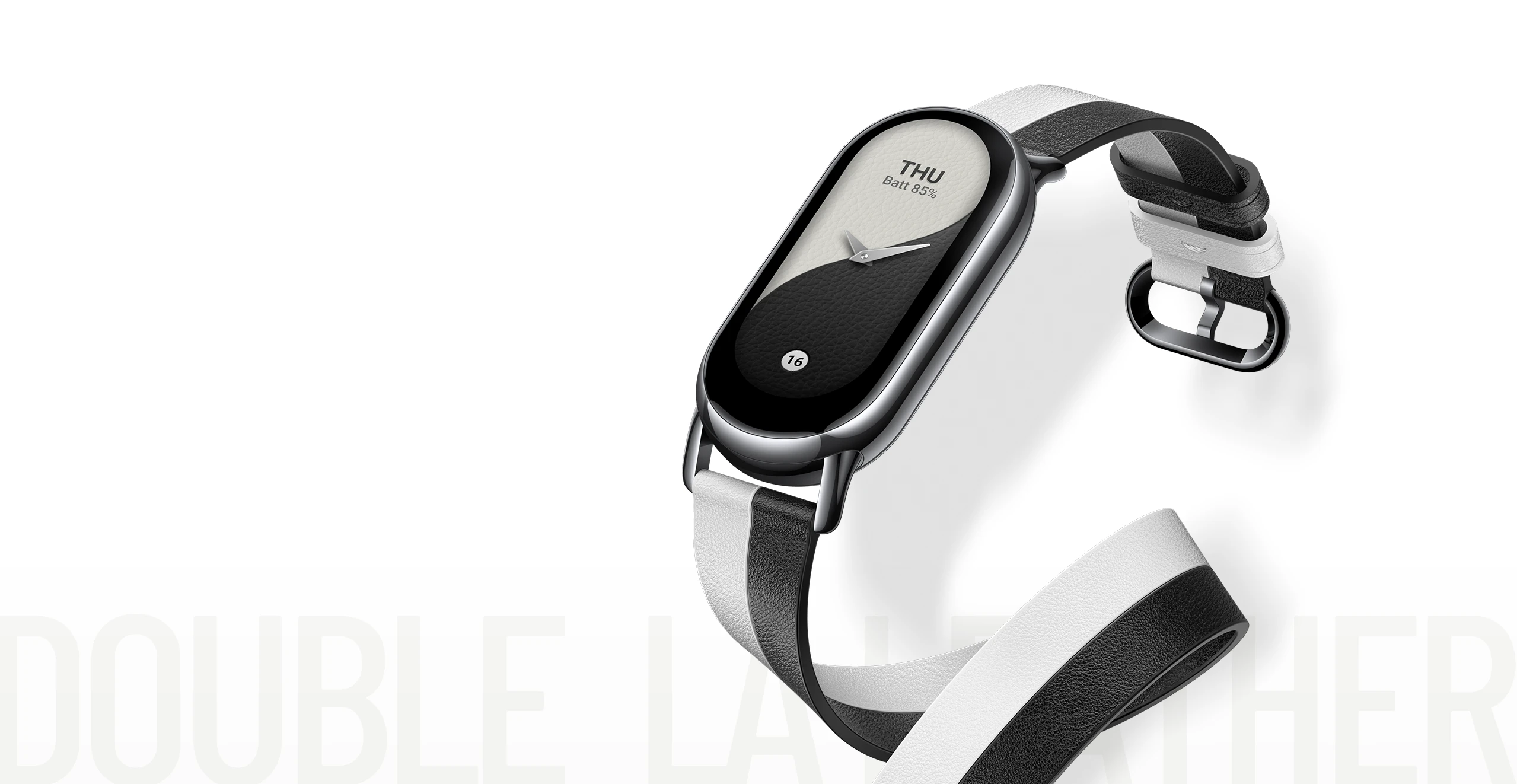 Double-circle leather wristband

with contrasting color design, wrapping around personality
Want to be more personal? Double Wrap Leather Wristband will be your answer.

Surrounded by double circles, it adds more layering.

The split design of black and white color matching is smart and distinct. Whether it's casual wear

or personalized makeup, it can add a bright spot to you.
*When the second lap strap is under the fuselage, it may affect
the accuracy of functions such as heart rate, blood oxygen, sleep, and off-wrist password.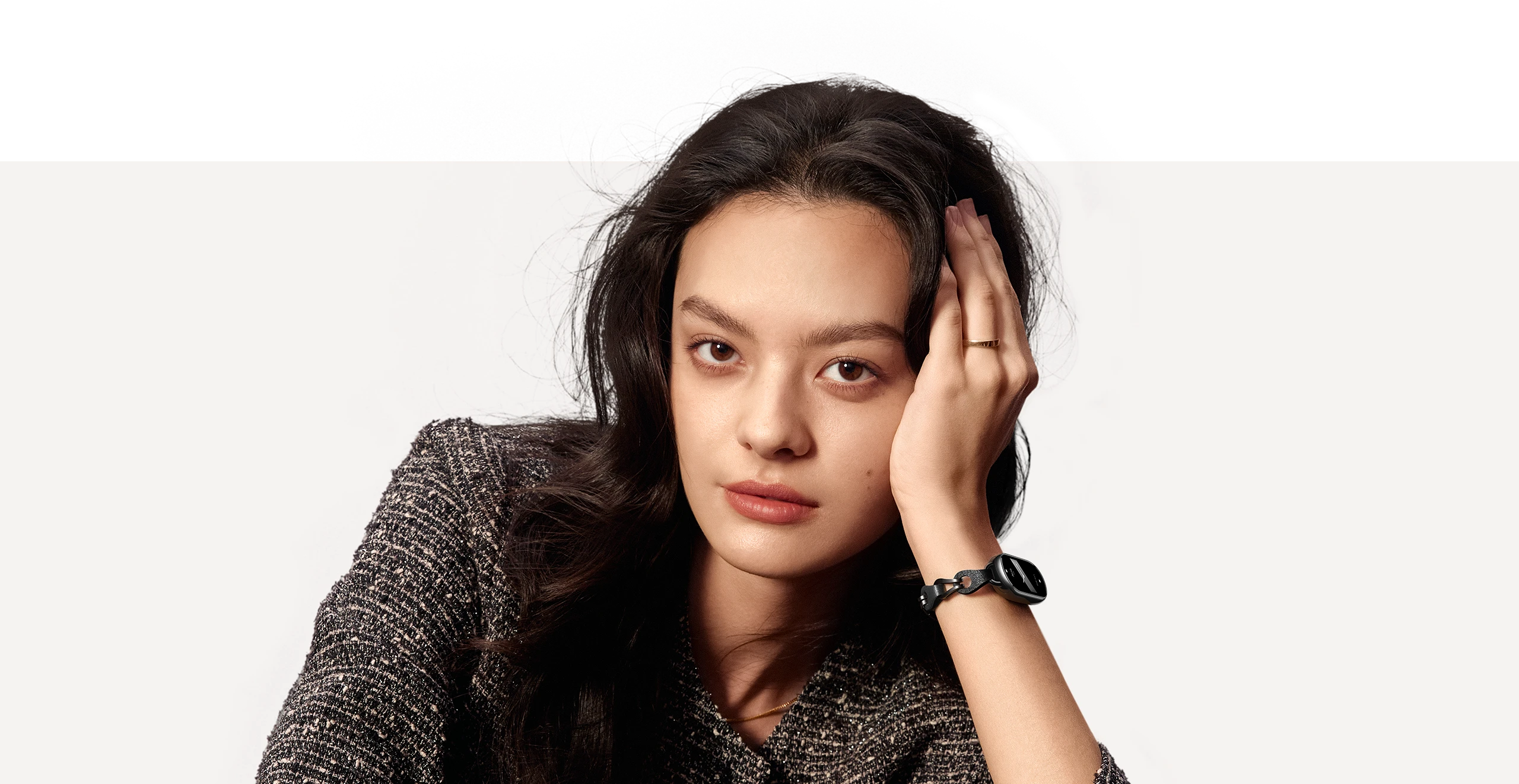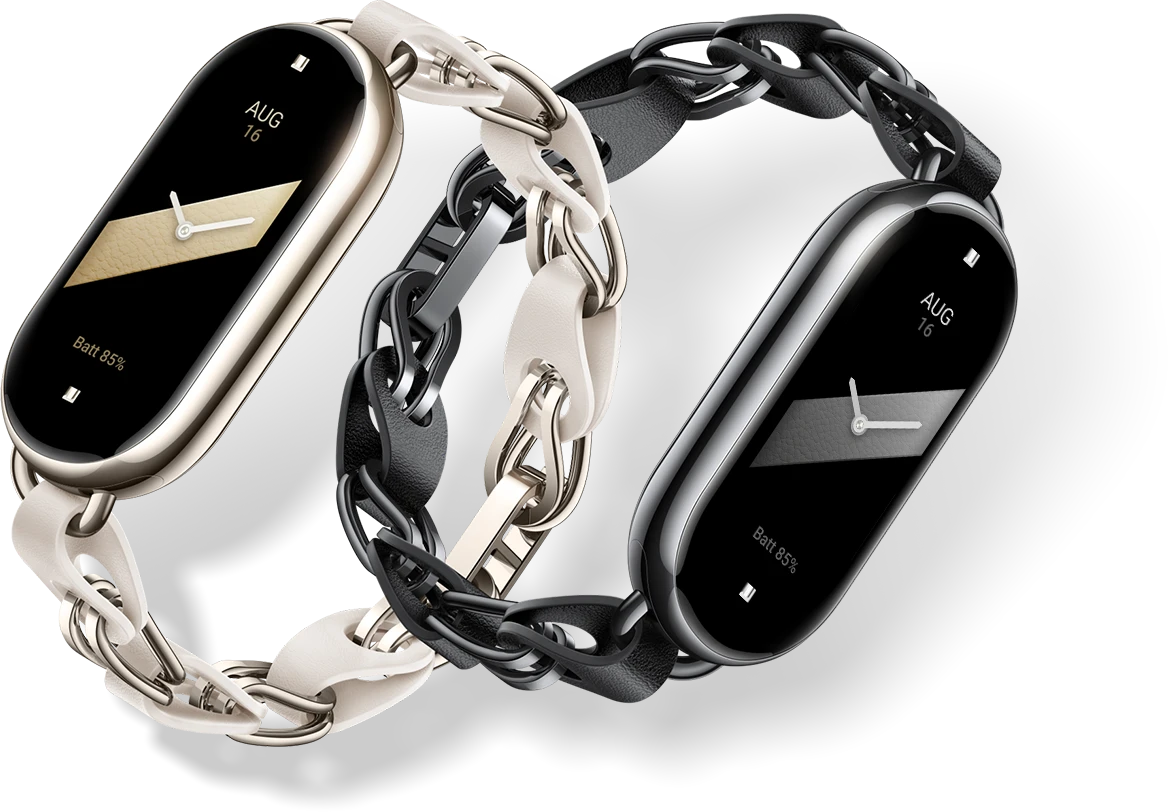 Fashion hollow bracelet

leather and metal, co-starring
The co-starring of leather and metal makes the wristband the protagonist, and
the metallic body becomes the embellishment of the fashion bracelet. The
unique hollow design not only makes the bracelet lighter, breathable and
comfortable, but also brings an unprecedented unique temperament, turning
the bracelet into a fashion accessory.
*Wearing the wristband too loose may cause data deviations such as heart rate, blood oxygen, sleep, etc.
Weaving wristbands

this hot summer, cool summer
The light, breathable, simple and elegant woven wristband will be the best

choice in hot summer. The bright velvet yellow and the low-key olive green

are your favorite choices. The details of high-end leather and rivets are matched to embellish your

summer refreshing LOOK.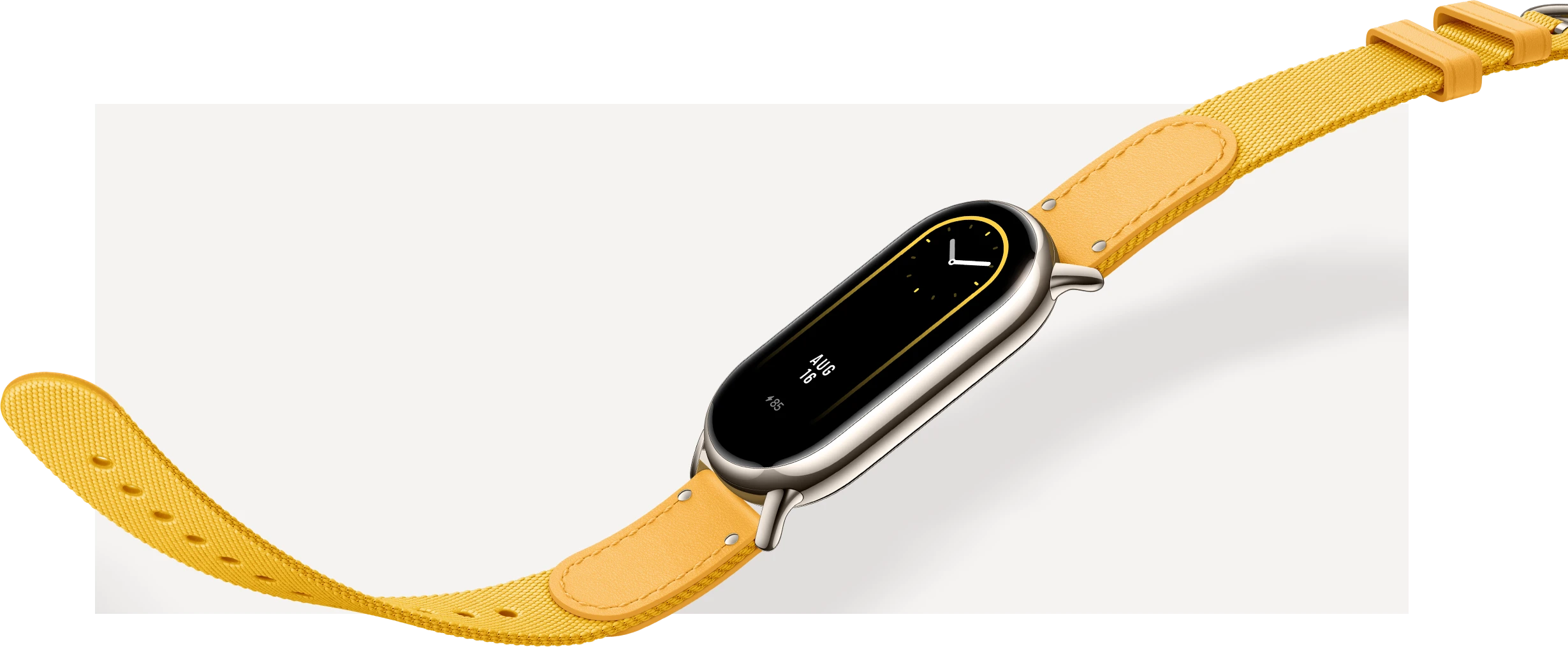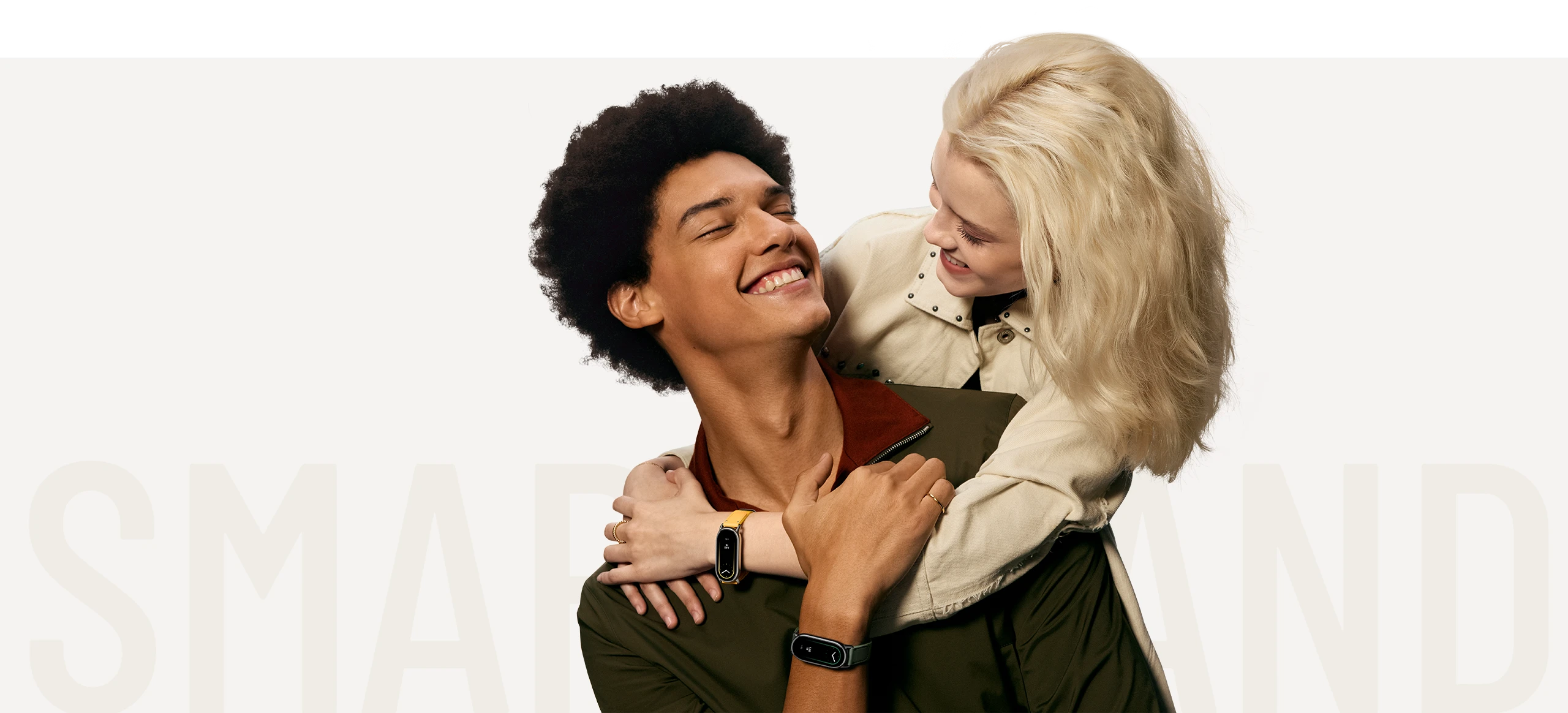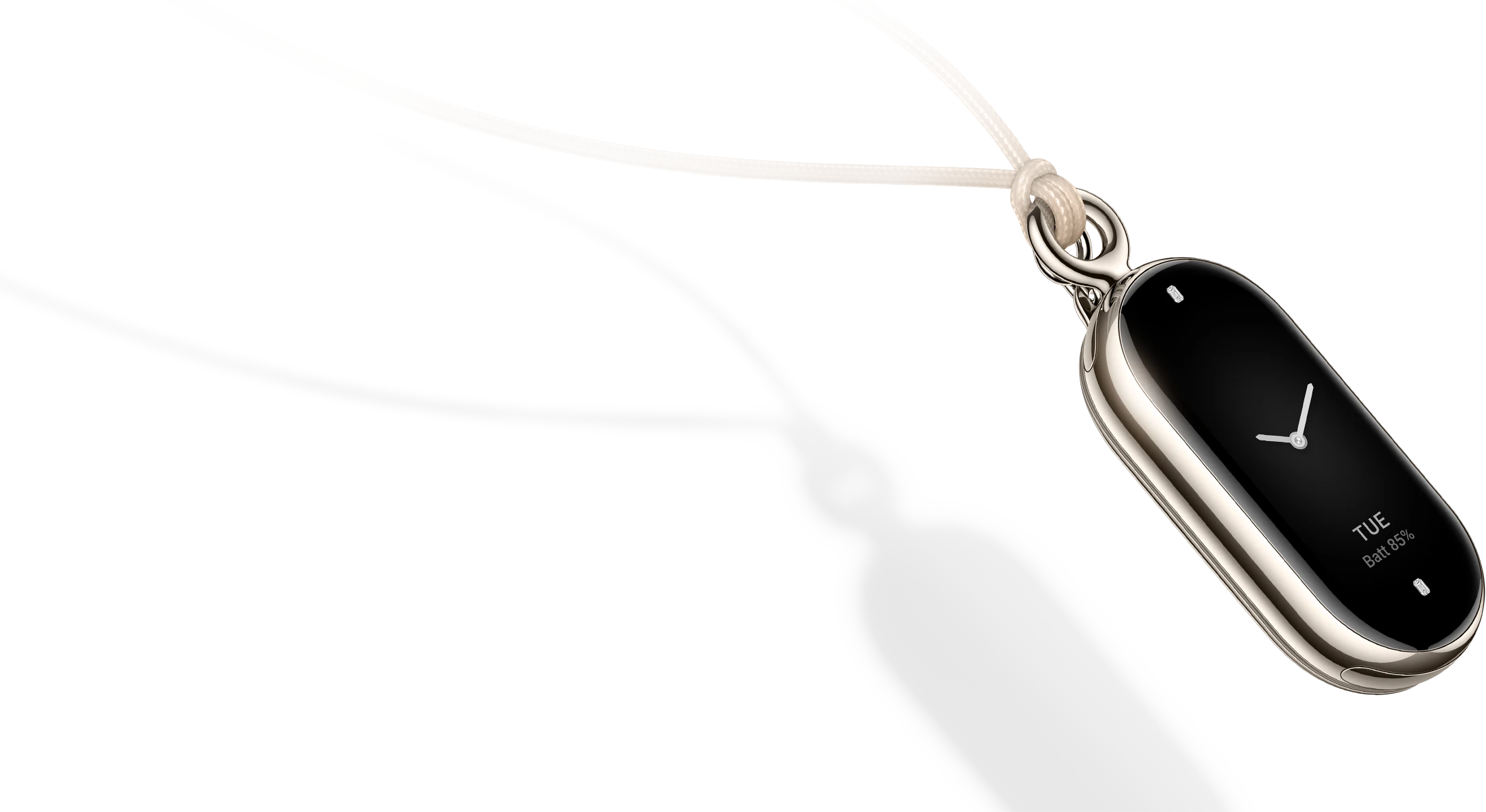 Pendant pendant
fashion smart small pendant
The new quick-release structure gives the bracelet a new stage. The pendant accessories, combined with the
exquisite gorgeous necklace dial, make the bracelet surprise into an "intelligent" decoration. At the same time,
it can provide time, step counting and NFC version unique card swiping function.
*Need to turn on the corresponding necklace mode in the bracelet or APP, after turning on, health and sports functions such as heart rate and blood oxygen measurement cannot be provided.
*Pendant accessories are retail accessories and need to be purchased separately.
*Due to the special way of wearing the necklace, there may be deviations in the accuracy of step counting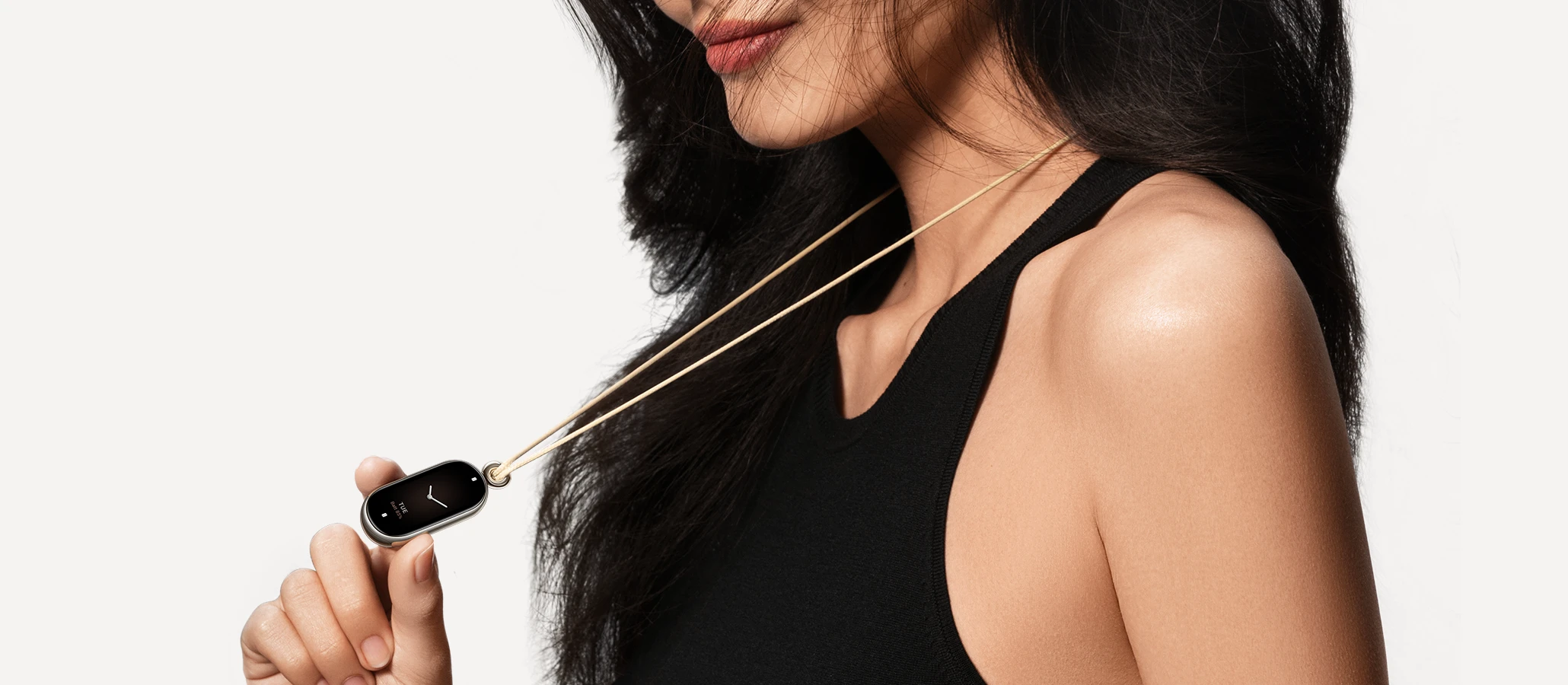 TPU wristband


with a sense of movement and vitality
It is made of skin-friendly TPU material, which is soft, smooth and waterproof, and it can accompany you toexercise and sweat, even swimming; the colorful and vibrant colors can be easily matched to give you a vigorous sports style.
The standard configuration is a black/off-white TPU wristband, other wristbands need to be purchased separately.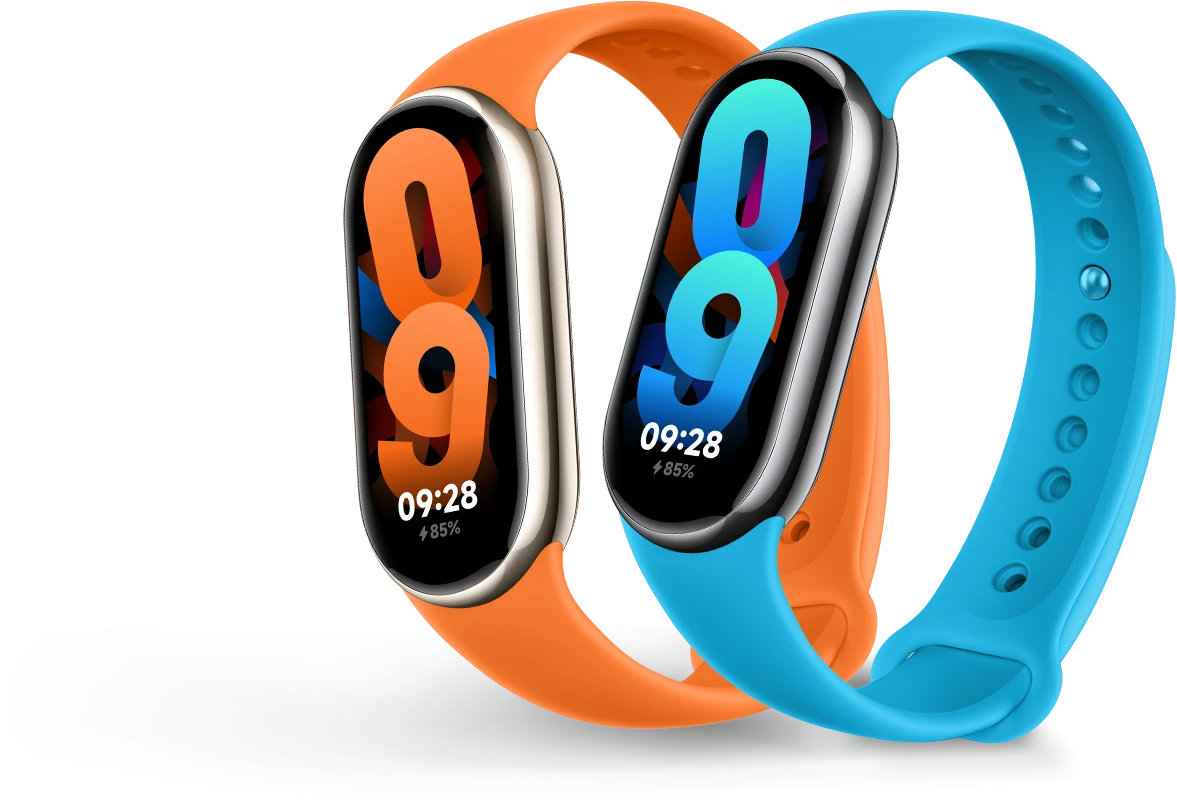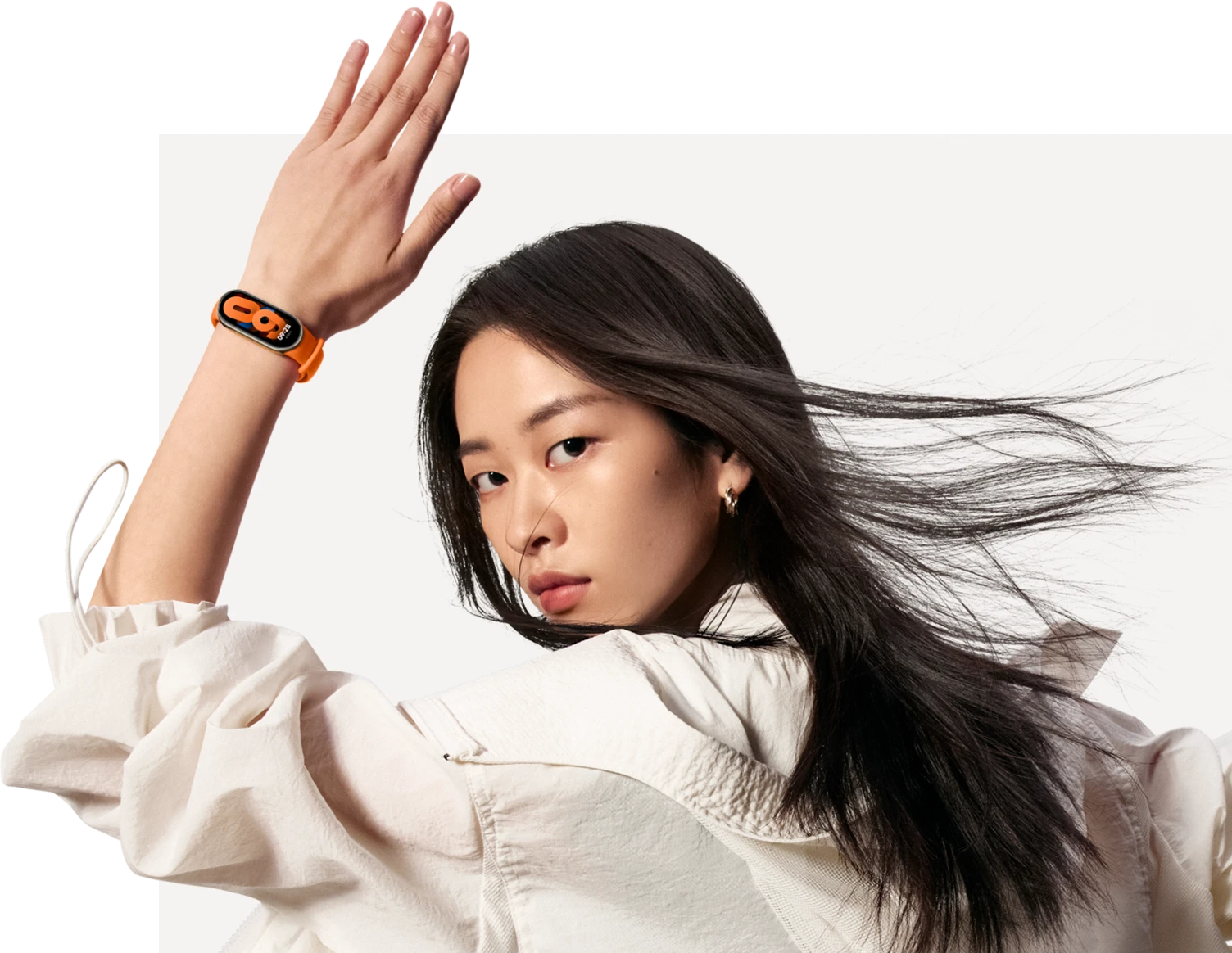 Hundreds of stylish dials
for style, eclectic
More than 200 new fashion dials, combined with the exclusive information screen display,
give you a steady stream of inspiration for dressing. All kinds of wristbands and pendant
accessories can also be found with a variety of official CP dials, each ofwhich a prominent temperament and a unique style.
The dials that can be selected in the Xiaomi Sports Health APP shall prevail.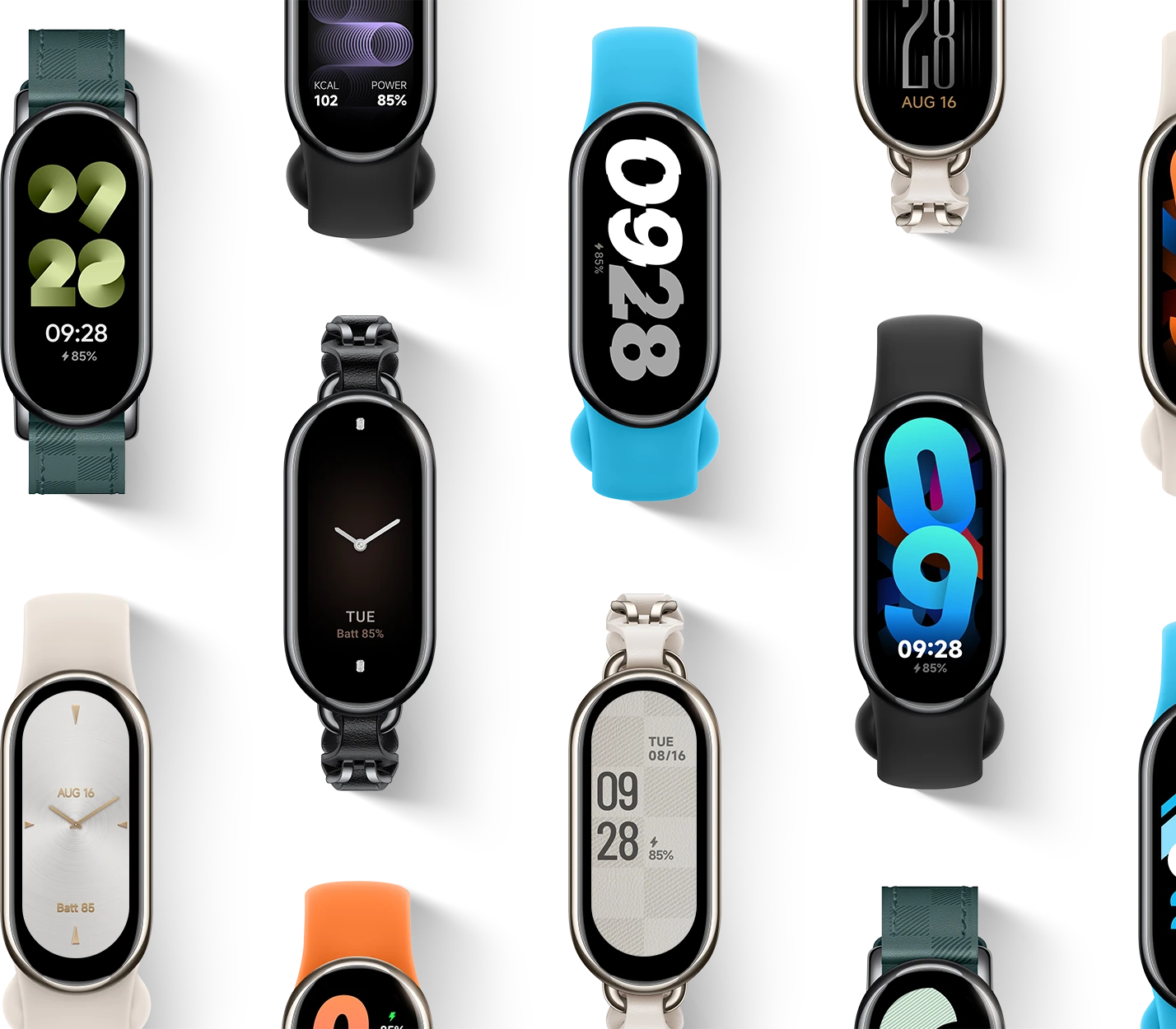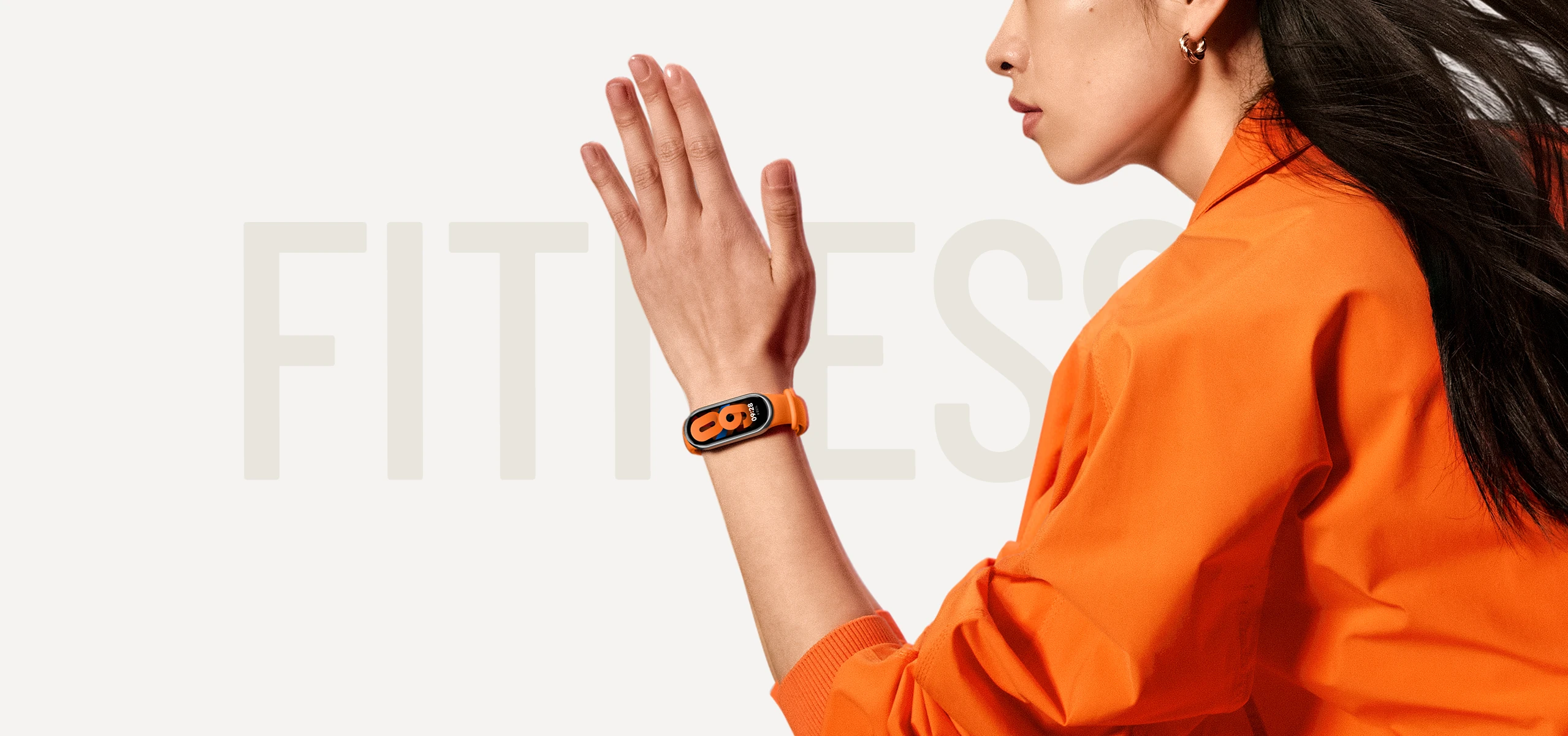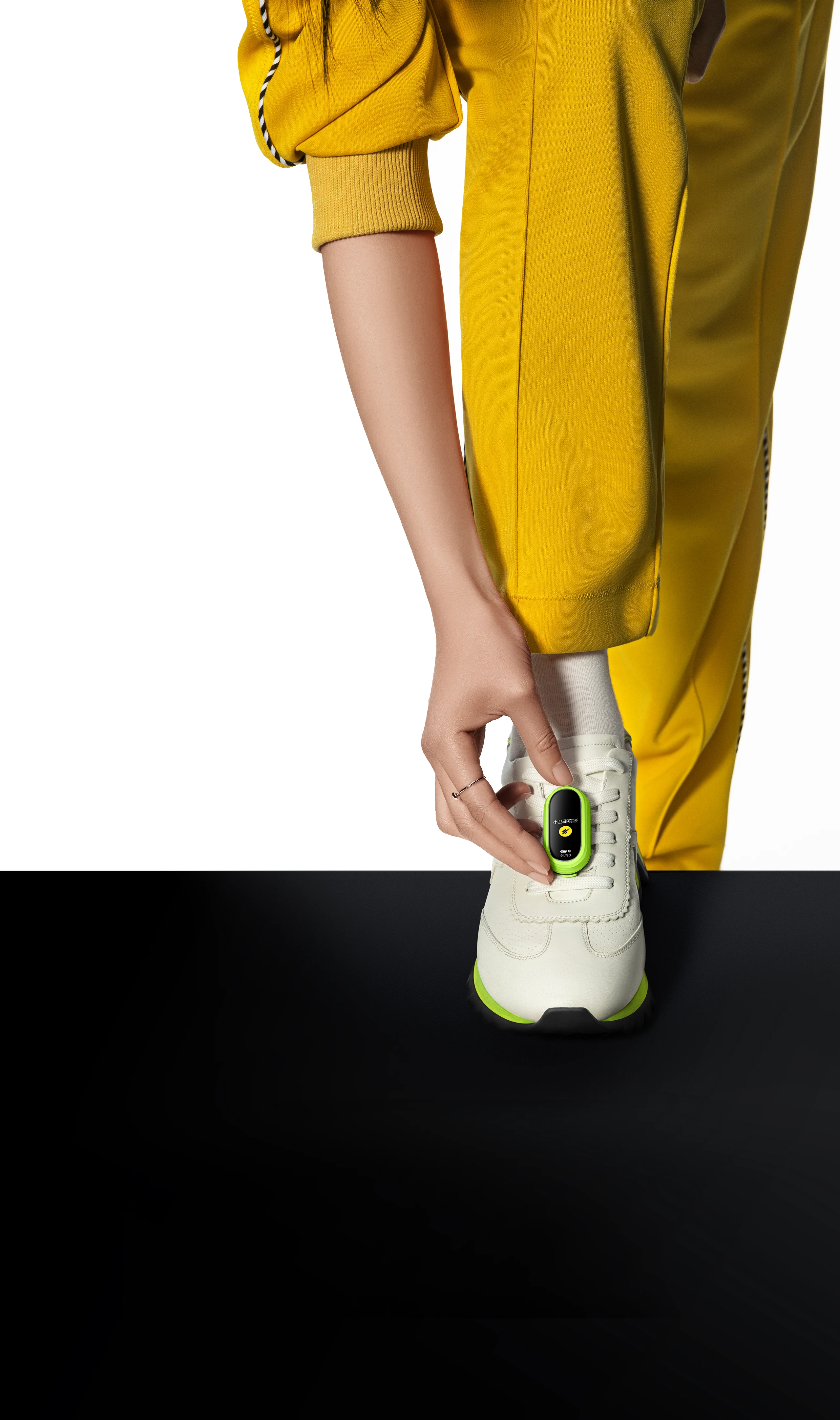 150+ sports modes and preferences, coincidentally
The new running bean mode for running, more professional feet
New function: running bean mode, which provides you with a more professional running experience. It
can not only monitor regular running data, but also provide 13 professional data such as stride frequency, stride length, ground contact vacancy ratio  ground impact force, etc., and provide various data professional interpretation.
For this reason, we specially designed exclusive accessories: running pods, which can easily on the shoelaces, professional training, and running at any time.
Running pods are sold separately.
When installing the running pod accessory, the dial needs to face 
itself 
. 
Incorrect wearing 
direction will affect the accuracy of the data 
.
Toggle "Running Bean Mode Both the bracelet and the mobile APP can choose to enter the running bean mode. Detach the wristband of the wristband, put it into the running pod, and clip it to the shoelace.Real-time viewing and real-time adjustment On the Xiaomi Sports Health APP, you can initiate walking, running, and cyclingsports . When running, you can view
data such as stride frequency, stride length, landing impact force, landing method, etc., so that you can adjust your running posture in real time.
Professional data, detail improvement
After running, you can view all professional data in the APP, as well as the

professional standards and interpretation of each data, to help you make further improvements.
Somatosensory interactive boxing
"somatosensory handle" to carry with youthe built-in iDong boxing course in Xiaomi Sports Health APP, and the boxing training will start immediately! Follow
the rhythm and play easily, and you will be able to master
technical movements such as straight punches, swing punches, uppercuts, steps, and dodges. Whether you are tired from sitting for a long time at work, or

you have been lying on the sofa for a long time on weekends, you can have fun exercising and start practicing at any time!
*Refer to the activity recommendations in the "WHO Guidelines on Physical Activity and Sedentary Behavior": adults should do at least 150-300 minutes of moderate-intensity aerobic activity per week; or at least 75-150 minutes of vigorous-intensity aerobic activity;
Or an equal amount of moderate-intensity and vigorous-intensity combined activity can reap huge health benefits.
Evaluate your current physical vitality,
and convert it into
vitality . *When the accumulated vitality reaches
100 within 7 days, you will gain significant health benefits.
Running alone is too boring? Use the smart accompanying running
mode to display

the gap between you and the set pace in real time, don't be lazy, you will fall behind!
Indoor sports have also been thoughtfully upgraded. The real-time data on the wristband
can be directly projected on the corner of the TV screen.
Whether you are concentrating on training or watching a drama while exercising,
you can see the status more easily.
*The sports data projection function only supports some Mi TV models,
please refer to the notes on the parameter page for details.
Running lessons on the wrist
There are 10 built-in running courses with different intensities. You can choose the difficulty

according to your own situation and sports foundation. By

suggesting heart rate and speed, you can "supervise" you to meet the training

requirements. You can also run alone to ensure

a good training effect.
Multi-dimensional health management
guardian day and night online
*Blood oxygen: After turning on continuous blood oxygen detection throughout the day, it will be detected every 10 minutes in a quiet state.
*Heart rate: If smart monitoring is turned on, the monitoring frequency will be automatically increased to 1 minute each time after detecting an active state.
*Sleep: In sleep monitoring, REM rapid eye movement monitoring needs to enable high-precision sleep monitoring in the APP or bracelet. Sporadic naps of less than 20 minutes may not be recorded.